Homemade Gifts:
Bath Salt Sundaes
Beating the mid winter blahs...
The adorable idea was a Pinterest find a couple years ago. It reminded me of a favorite Avon spray I had as a young girl. Anyone remember?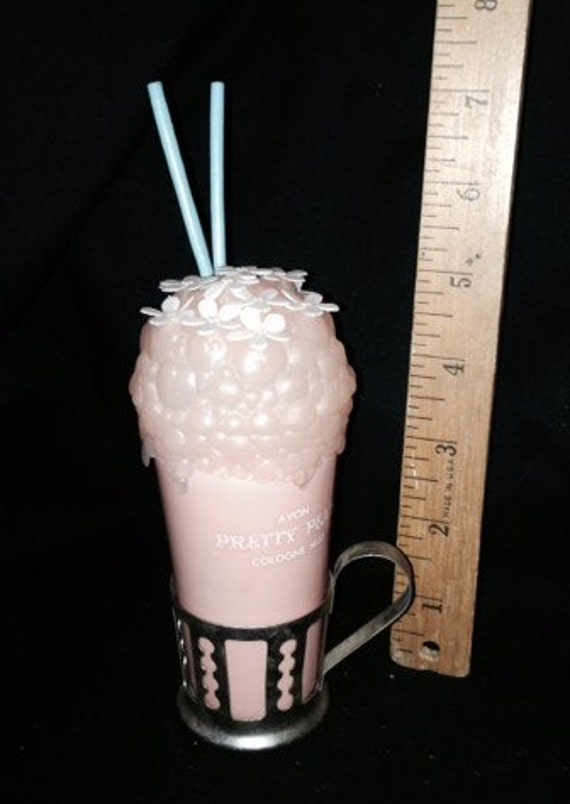 After sterilizing the glasses, use pinking sheers to cut stock paper and glue to base of glass.
I scoured the resale shops to pick up Ice Cream Soda glassware. (HINT: refuse to pay more than $0.99) Several shapes but all the same size. I made apx 25 of them for an after work gathering that was hosted by one of our team.
Found these great inexpensive bath loofahs at my favorite discount store.
*Fill glass with Bath salts, then cover with plastic wrap to help seal in scent and keep from spilling.
*Place bath scrubbie on top, use clear tape to hold in place if necessary.
*Wrap ribbon bow around glass rim.
*Add a Cute paper stripped straw ,you will have to place a tiny slit in plastic wrap for straw to sink into salts.
*Glue a craft store cherry to the top of the scrubbie. (using glue dots really helps.)
*Finally, I added a label to tell my co workers what was in the bath salts. Free labels are available for printing . I have used LIAGRIFFITH.COM on projects, and have made my own as well.
Bath Salt Recipe:
5 lb bag Epsom Salts
4 C Sea Salt
1.5 tsp Rosemary Essential oil (food grade)
1.5 tsp Eucalyptus "
1,75 tsp Lavender "
Glass Bowl* to mix oils and salts. * Plastic can absorb the essential oils and metal bowls can react to the oils.
I suggest starting with less oil and add as needed. I should say that while the health benefit claims of essential oils have not been evaluated by the government, I have been using them for decades in our baths for aches, colds, stuffiness, etc, and find that they are a great homeopathic to treating symptoms related to aches, stress, colds....
Next tie a ribbon
These were a February/Valentines Day theme. They are a great gift for many occasions: Showers, Christmas, etc. Last year I made them for a family 4th of July gathering: